Website: https://planb.earth/
https://www.crowdjustice.com/case/planb/"
Facebook: https://www.facebook.com/ThereIsAPlanB/
Twitter: @PlanB_earth – https://twitter.com/search?q=%40PlanB_earth&src=typd
Update: 15 Nov 2018 – New campaign on the 1.5 deg C target and Government's Heathrow plans
Update on Citizens sue Government for safe Climate Target
Dear Supporter
Thanks to your help, we are making real progress.
Within a month of beginning our legal action in December 2017, the Government's advisers recommended a review of its climate change targets to align them to the Paris Agreement.
On 15 October 2018, the Government formally commissioned a review. The tasking, however, implied a lengthy delay. We wrote to the Energy Minister on 26 October, threatening further legal action:
https://planb.earth/plan-b-writes-to-energy-minister-claire-perry-seeking-urgent-response/
Last Thursday, the Energy Minister, Claire Perry, responded to Plan B,  confirming that the CCC could recommend changes to take place as soon as possible:
https://planb.earth/wp-content/uploads/2018/11/Letter-from-Claire-Perry.pdf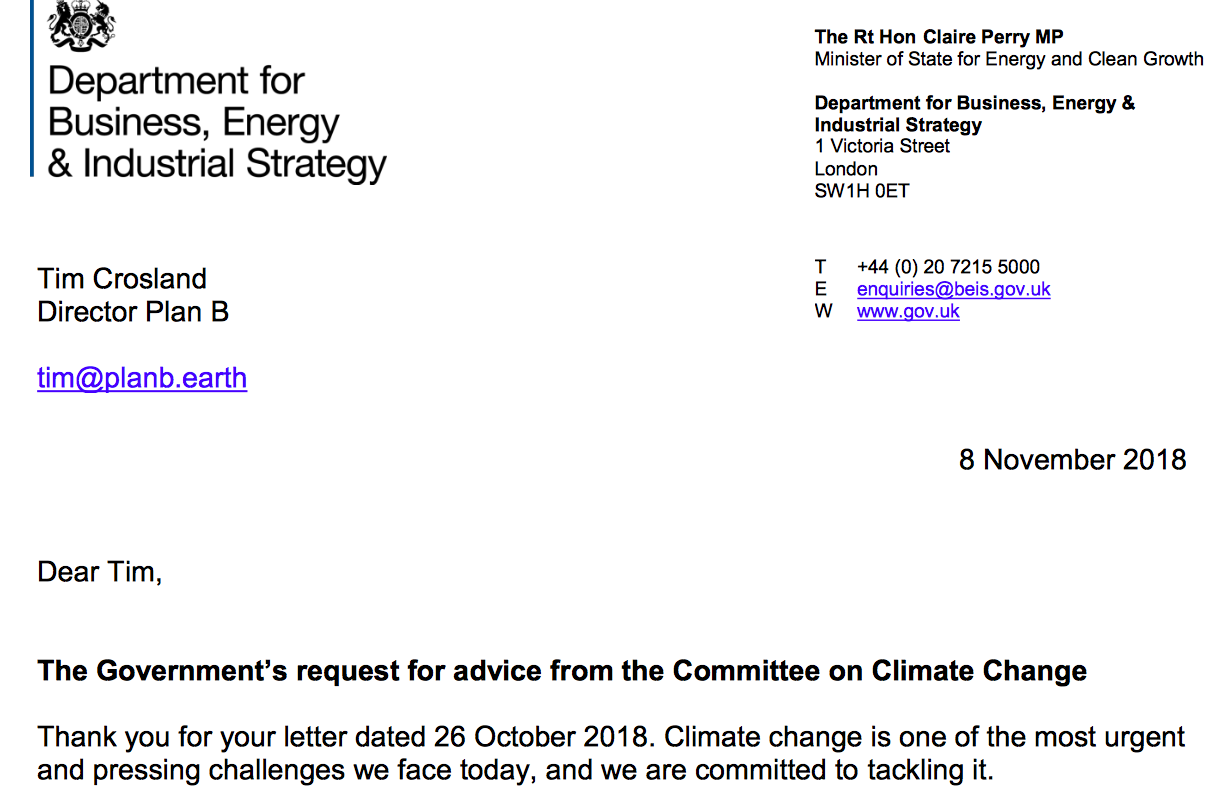 As noted by the Shadow Minister for Climate Change, Alan Whitehead MP, the pressure of legal action is forcing the Government to do the right thing:
But none of this will matter if the Government's plans to expand Heathrow Airport proceed. We need to reduce emissions urgently not increase them.
That's why on Thursday we're starting a new crowd-fund campaign in support of our legal challenge to these reckless plans. The campaign goes live from 7.30am, here:
https://www.crowdjustice.com/case/no-to-heathrow/
Success depends upon building early momentum (no-one likes to contribute to an empty pot), so please get behind us if you can:
a) with a contribution; and
b) by sharing the link.
Thank you so much! As a small charity, we couldn't hope to do this without you.
Best wishes,
Plan B
Dear Friends
We're making progress in holding the Government to account, but we can't afford to let up.
Please help us fight the runway to runaway climate change by:
1) Making a small contribution to our new campaign; and
2) Sharing the link:
https://www.crowdjustice.com/case/no-to-heathrow/
Best wishes and thank you so much!
Plan B.
Update: 26th July 2018 – Grounds of Appeal filed

Thanks to the awesome work of our brilliant legal team, Plan B + 11 Citizens have today filed their Grounds of Appeal against the High Court's decision last week not to grant us a full hearing. The Government and the Committee on Climate Change now have 14 days to respond. You can see our Grounds of Appeal here and Skeleton Argument here.
Press Release 20th July 2018: High Court blocks path to full trial of climate change legal action
https://planb.earth/press-release-20th-july-2018-high-court-blocks-path-to-full-trial-of-climate-change-legal-action/
High Court blocks path to full trial of climate change legal action
The High Court ruled against climate charity Plan B today (20 July) in one of the first major legal test's of the Paris Agreement on climate change. The ruling blocks the path to a full hearing on the sufficiency of the UK 2050 climate change target, the basis for all UK climate change policy.
The charity Plan B and 11 UK citizens commenced legal action against the government for what they claim is a failure to revise the target in line with science and the Paris Agreement.
Following a hearing on 4 July, Mr Justice Supperstone has now issued a judgement, which states, contrary to Plan B's understanding of the position of the Committee on Climate Change that: 'I agree…that the Committee's position was that the existing 2050 target is compatible with the Paris Agreement.'
Tim Crosland, Director of Plan B and former government lawyer, said: 'We are surprised and disappointed by this ruling and will be lodging an appeal.
'We consider it clear and widely accepted that the current carbon target is not compatible with the Paris Agreement. Neither the government nor the Committee on Climate Change suggested during our correspondence with them prior to the claim that the target was compatible.
'Indeed, it was only in January of this year that the Committee published a report accepting that the Paris Agreement was 'likely to require' a more ambitious 2050 target. Moreover the Government acknowledged in these proceedings that it was 'uncontroversial' that the 2050 target was insufficient to meet the 1.5 ̊C target, one of the key aspects of the Paris commitment.
'In these circumstances, Plan B and the other 11 claimants continue to consider that a full hearing on an issue of such urgent and vital importance is necessary. As with other legal campaigns confronting powerful vested interests it takes time to break through, and time is not on our side. We'll be doing everything possible to accelerate the process. Wildfires raging in the Arctic Circle must surely be a wake-up call.'
The case has attracted strong support internationally. Leading climate scientist, James Hansen, whose testimony to the US Congress in 1988 raised the global alarm on climate change, has said the case 'could have a big impact on the whole global situation'.
The government's own former chief scientist, David King, has also expressed support for the action as has politician Caroline Lucas and a coalition of top doctors. Attorney General to HRH The Prince of Wales, Jonathan Crow QC, is one of the barristers representing the group in court.
The case seeks to compel the government to revise the UK's 2050 carbon target, the anchor for all its climate change policies, and to specify a new one based on the latest scientific knowledge and the goals set out in the Paris Agreement.
It argues that Greg Clark's failure to do so is inconsistent with the purpose of the Climate Change Act which is the to commit the UK to a fair contribution to the global temperature limit, irrational and a breach of human rights, including the right to life, the right to family life, and the right to property.
In 2008 the Climate Change Act set out a target based on the belief that limiting global warming to 2 ̊C would be enough to avoid the worst impacts of climate change. The situation has subsequently deteriorated and in 2015, Governments around the world adopted the Paris Agreement committing them to limiting warming to 'well below' 2 ̊C while aiming for a 1.5 ̊C limit.
Plan B and 11 citizens, aged 9 to 79, are represented by the solicitors, Jamie Potter and Ben Gaston of Bindmans LLP, and the barristers Jonathan Crow QC and Emily MacKenzie.
Ends
Notes to editors:
• For further information on those backing the action, see:
Dr James Hansen (see video statement at planb.earth)
Caroline Lucas: (see "Caroline Lucas just threw her weight behind the mother of all court cases against the UK government" The Canary, 8.6.18
The BMJ and leading doctors: 8.12.17 "Top doctors back legal action against Government on carbon emissions" (Daily Mail)
Sir David King, the former Government Chief Scientist: 27.9.17 "Climate change: Ministers should be 'sued' over targets" (BBC)
● In 2008, the UK Government introduced the Climate Change Act, setting a UK carbon target for 2050, tied to what was then considered the 'safe' global limit of 2 ̊C of warming. The Act was the first of its kind, and is still used as a model by many countries around the world.
• No-one thinks 2 ̊C is safe any more. The current scientific consensus is that the risks of crossing critical tipping points in the climate system rise sharply beyond 1.5 ̊C warming.
●  The Act provides for the Secretary of State (Minister) to revise the target in line with developments in science and law.
●  In December 2015, 195 Governments, including our own, signed the Paris Agreement. They pledged to hold warming to well below 2 ̊C and to aim for a limit of 1.5 ̊C
●  In 2015 a citizens' platform in the Netherlands called Urgenda took the Dutch Government to court for failing to do enough to tackle climate change. The Court ruled in its favour and ordered the Dutch Government to raise its ambition. Similar cases are underway in the US, Belgium, Uganda, India and Ireland and the EU.
●  In March 2018, within weeks of the first Court hearing in this case, Claire Perry, the Energy Minister, announced at the Commonwealth Heads of Government meeting that the Department for Business, Energy and Industrial Strategy (BEIS) would commence a further review of the position at some point after October. BEIS made the news public only via Twitter.
●  No review has been formally commissioned, the terms of reference are entirely unclear, and no time-frame has been set. The terms of reference and timing are fundamentally important.
●  For further context see:
"Can Climate Litigation Save the World?" Damian Carrington, the Guardian, 20 March 2018
Interview with the director of Plan B, Tim Crosland, on Al Jazeera on the global climate emergency
●  Please include the link to the case Crowd Fund page: www.crowdjustice.com/case/planb
For more information, contact
Tim Crosland 07795 316164 tim@planb.earth; Kitsy Kinane 07850 135279 kitsy@planb.earth Facebook @ThereIsAPlanB Twitter @PlanB_earth Website planb.earth
To download the press release as a pdf click here.
To download the judgement in full click here.
Press release of 5 July 2018 on Citizens sue Government for safe Climate Target
https://planb.earth/press-release-5th-july-2018-high-court-postpones-decision-on-whether-climate-case-proceeds-to-full-trial/
Update of 9 June 2018 on Citizens sue Government for safe Climate Target:
4 July, Caroline Lucas and 'the mother of all court cases'

Dear Supporters
As we approach our critical hearing date on 4 July, Caroline Lucas has thrown her weight behind what's being described as 'the mother of all court hearings':
https://www.thecanary.co/discovery/analysis-discovery/2018/06/08/caroline-lucas-just-threw-her-weight-behind-the-mother-of-all-court-cases-against-the-uk-government/
Meanwhile the climate justice movement is gathering momentum around the world, and Plan B were recently interviewed by Al Jazeera about 'the People's Climate Case' against the EU:
https://www.youtube.com/watch?v=EhlEmI1lnm0&t=15s
We have served a further statement on the Court to update it on significant new developments in support of our position arising since the last Court hearing on 20 March. More and more policy-makers, scientists and academics are joining our call for the Government to get serious on climate change:
http://nebula.wsimg.com/0aae89d93c9be2670843f4d3678a965f?AccessKeyId=E7B5A255C426BFBF3693&disposition=0&alloworigin=1
Please show the Court, the press and the Government how much this matters to us all by joining us on 4 July from 9am, the Royal Court of Justice, the Strand, London.
With thanks and best wishes,
Plan B + 11
Government Commits to Review of its Climate Target – 18 April 2018
(Please also see the previous updates – and links that give fuller details and background – further down the page.)

Today the future for us and our children is looking just a little bit brighter. And it's thanks to you.
Yesterday Claire Perry, the Minister for Climate Change, committed to a review of the UK long-term climate targets in light of the Paris Agreement and a forthcoming report on the impacts of 1.5˚C warming.
https://www.theguardian.com/environment/2018/apr/17/uk-to-review-climate-target-raising-hopes-of-a-zero-emissions-pledge
https://www.businessgreen.com/bg/news/3030307/claire-perry-to-instruct-committee-on-climate-change-to-scope-net-zero-goal
She did so with an announcement at the meeting of the 53 Commonwealth Heads of Government taking place in London. This is precisely what we've been urging – the UK Government to show leadership and to use its diplomatic influence positively. The announcement was welcomed by, among others, the Frank Bainimarama, the Prime Minister of Fiji:
"I am encouraged by Britain's undertaking to review its climate targets with a view to increasing ambition. The [targets] we all promised to make in the Paris agreement should be setting high standards for the rest of the world to follow."
Only a few months ago the Government was adamant that no such review was necessary. There's no question that the hundreds and hundreds of you supporting our legal action financially; the public messages of support; and the packed court-room on 20 March, have sent to the Government a powerful message – their future is our future and our future is theirs.
Of course the Government has not yet actually changed the target or brought it into line with the Paris Agreement. But under the Climate Change Act, a review from the Committee is the necessary first step. We'll be discussing with our legal team precisely what this means for our legal action and will provide a further update soon.
But quite simply this is a hugely important and globally significant development, that would no have been possible without your support.
Best wishes,
Plan B + 11
xxxxxxxxxxxxxxxxxxxxxxxxxxxxxxxxxxxx
Update on Citizens sue Government for safe Climate Target – 29 March 2018
Dear friends
We've got our next hearing date and it's a good one! 4 July (Royal Courts of Justice, the Strand London).
It's a historically resonant day to be running ground-breaking right to life arguments. On 4 July 1776 the US Declaration of Independence was signed, containing the first and arguably most important political articulation of the principle:
"We hold these truths to be self-evident, that all men are created equal, that they are endowed … with certain unalienable Rights, that among these are Life … "
We're listed for a full day's hearing, and this time we really do expect to get a ruling on whether the case proceeds to full trial. But who knows! We were also really expecting that last week.
Whatever happens it's going to be an important day. This is your case and it would be great so see you there!
Best wishes,
Plan B + 11
xxxxxxxxxxxxxxxxxxxxxxxxxxxxxxxxxxxxx
Update on Citizens sue Government for safe Climate Target – 21 March 2018

Dear friends
Yesterday we had our first hearing at the Royal Courts of Justice.
We were expecting a decision on whether the case should proceed to a full trial. One of our arguments is that the Government misunderstood the advice from the Committee on Climate Change: the Government claims the Committee advised it that greater ambition for the 2050 target wasn't feasible, but the Committee denies this.
For reasons best known to the Committee, it decided not to attend the hearing (despite the fact is an 'interested party"). The Judge was unimpressed and ordered the Committee to submit a response within 21 days. She also considered that, given the complexity and significance of the issues, the 2 hours set aside for the hearing would be insufficient. She adjourned the hearing for a full day in Court, that is likely to be some time in May.
On the one hand it's very good news that the Court is giving the matter proper scrutiny; on the other the adjournment substantially raises our costs, and we urgently need to raise more funds. Please help us by sharing information about the case on social media and encouraging 5 friends to contribute (and pledging again if you possibly can).
Yesterday the Guardian featured our case under the headline:
"Can climate litigation save the world?"
The influential online magazine, Business Green, has written a report on yesterday's hearing:
"Climate Change Act: UK carbon targets legal action set to continue", with the byline:
"BREAKING: Judge adjourns permission hearing on crucial challenge to the government's long term emissions goals, as legal battle continues"
We are also honoured that James Hansen, the world renowned climate scientist, sent us a video message of support, saying that our case could have "a big impact on the whole global situation":
Video here: https://www.youtube.com/watch?v=UsmEVzfG7PQ
It would be tragic if we weren't able to progress because of financial constraints, so please, please help us carry on this essential process of holding the Government to account for its betrayal of its basic responsibilities.
Thank you so much for your support.
Plan B. Earth + 11
xxxxxxxxxxxxxxxxxxxxxxxxxxxxxxxxxxxxxxxxxxxxx
Update on Citizens sue Government for safe Climate Target – Thu 4 Jan 2018

Dear Friends 
Thanks to you we've got 2018 off to the best possible start. We've made our ambitious target with time to spare.
It's hugely important to have you on our side, demanding the UK Government fulfils its basic responsibility to keep us and our children safe. Just a month ago there were just 12 of us. Now there are hundreds and hundreds of us daring to care. UK Government please take note!
Next steps in the Court process
The Government (as defendant) and the Committee on Climate Change (as interested party) have been formally served with our grounds of claim. They must submit their responses by the end of January.
A High Court Judge will then consider whether our case raises 'arguable grounds' that merit a full hearing in Court. This is called the 'permission stage' of the case. We expect to have an initial ruling on permission some time between February and early April. We are confident permission will be granted and will keep you up to date with all developments.
What you can do
You can help us get people talking about climate change again. Life depends on breaking the vicious circle of public indifference and political inertia. Let people know you're backing a historic case with the potential to change everything. And let them know we've hit our Crowd Fund target and that the case is moving forward.
Here's a tweet / post / mail you can use or adapt:
"We've made our Crowd Fund target for a safe climate future! Join our case for all people, all amimals and all life on earth. https://www.crowdjustice.com/case/planb/. #ThereIsAPlanB"
You can also follow us on Twitter (@PlanB_earth) and Facebook (@ThereIsAPlanB) for more regular updates.
Links
You may also be interested to read and share some articles about the case:
29.9.17 "Ministers who fail to cut greenhouse gas emissions should face legal action, says former chief government scientist" (The Independent)
8.12.17 "Top doctors back legal action against Government on carbon emissions" (Daily Mail)
10.12.17 "We Need Not Be Spectators In the Climate Catastrophe" (Common Dreams)
19.12.17 "Why there's a moral duty to sue our government over climate change" (Open Democracy UK)
Of course this is just the beginning. But together we can make this unstoppable.
Thanks you so much for you support.
Best wishes from Plan B + 11
https://www.crowdjustice.com/case/planb/"
Facebook: https://www.facebook.com/ThereIsAPlanB/
Twitter: @PlanB_earth – https://twitter.com/search?q=%40PlanB_earth&src=typd

PlanB, run by a former government lawyer, and supported by Sir David King, former UK chief government scientist and permanent Special Representative for Climate Change, have already issued a pre-action letter to the government as follows:
http://nebula.wsimg.com/7b9ada64c8787191f5bcb2f5b41cbd18?AccessKeyId=E7B5A255C426BFBF3693&disposition=0&alloworigin=1
They are now launching a judicial review against the UK government climate response supported by crowd funding and they really need help to get the crowd funding publicised in order to support this vitally important legal action, which has been called for by James Hansen (https://www.theguardian.com/environment/2017/nov/17/we-should-be-on-the-offensive-james-hansen-calls-for-wave-of-climate-lawsuits ).
Crowd funding started on Tue 5 December.
From the organisers: As well as being ready to share the link with your address book and your facebook friends, consider identifying individuals, groups and organisations who you can write to individually. These may be people you already know, or they may be people or groups that would you like to approach. Perhaps there are high profile individuals that you can approach? Perhaps you can identify a list of social media/facebook groups to write to and post under. The more people you can write to personally the better.
Facebook: https://www.facebook.com/ThereIsAPlanB/
Twitter: @PlanB_earth – https://twitter.com/search?q=%40PlanB_earth&src=typd